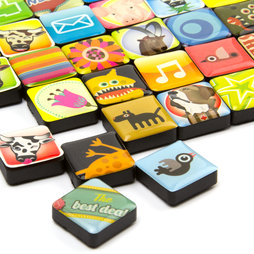 Icons
fridge magnets square, set of 4, in various designs
Please select your desired model.
Description
This article is remaining stock. As soon as the inventory is sold, it will be taken out of the assortment.
Funny little square magnets with icons. A tiny magnet is attached to the backside of the symbols. Its adhesive force is impressive nevertheless: An individual magnet can hold 8 A4 sheets on a whiteboard. Available in many designs with 4 icons each - from animals to apps - there is something for everybody.