Magnetic place cards
These cards are attractive & multifunctional
Online since: 11/03/2019, Number of visits: 149469
Place cards add the finishing touches to a lovingly laid table and let guests know where they can sit. Especially at weddings, birthdays and celebrations with many guests the small cards have proven to be an indispensable table accessory. Would you like to make your own place cards or are you looking for an personalised touch for already printed cards? Take advantage of our magnets.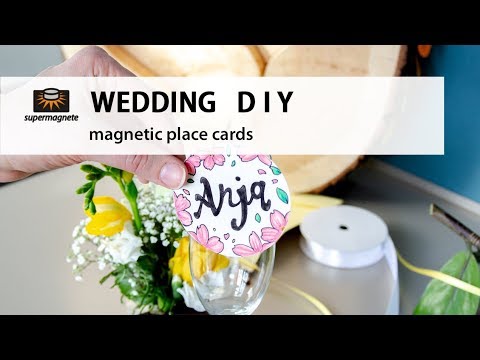 You only need two
self-adhesive magnets
for each card. We used
self-adhesive disc magnets Ø 18 mm
. As an alternative, you can also use a self-adhesive magnet and a conventional disc magnet with the same diameter. If using self-adhesive magnets, remove the protective film from the adhesive layer and press the magnet firmly onto the back of the place card. Thanks to the second magnet, you can now attach the place card in a variety of ways. In our opinion, the cards look particularly good on glasses or napkins, for example.
The special thing about magnetic place cards is the fact that they can be repurposed. In no time at all they can be attached to the guests' clothes with the two magnets creating perfect name tags. The magnets do not damage the clothing, as it might be the case with pins for example. The name tags make it easier for guests to get to know each other, talk and celebrate together.
After the festivities, your guests can take their place cards home and attach them to the fridge or memo board. Then they have a pretty souvenir of this great day.
Please note: People with pacemakers must observe certain safety distances to magnets. Further information on this topic can be found here ""
FAQ Safety distances
".
If you are looking for more inspiration for DIY name tags we have something for you. Five wedding blogs have shared their favourite name tag designs with us and we have collected them in this
PDF file
for you. Whether you want to use the cards as place cards, name tags or both is up to you.
Further ideas for magnetic wedding decoration can be found here:
The entire content of this site is protected by copyright.
Copying the content or using it elsewhere is not permitted without explicit approval.