Magnetic monkey's fist knot
A useful gadget on a tool or keyring
Online since: 11/05/2011, Number of visits: 137743
Lanyards are useful little helpers for securing knives, tools, keys and other gear. They usually come in signal colours.
The knot on this strap is called "monkey's fist" and is a classic stopper or decorative knot. I tied a cube magnet type
W-12-N
inside the monkey's fist.
Suitable for incorporating into the knot are all
sphere magnets
and
cube magnets
with a diameter or edge length of 8 to 15 mm, respectively. For the monkey's fist knot, it is best to use so-called 550 paracord (parachute cord) or a 4 mm accessory cord. For smaller knots, it is also possible to use 3 mm synthetic rope.
The knot is quite easy to tie. Instructions that show how to tie such a monkey's fist knot yourself can be found on Wikipedia and other online sources. The magnet is simply placed inside after the second (horizontal) wrapping.
A useful video tutorial can be found at the bottom of this article!
The third vertical wrap comes next. It is best to test the number of loops on the magnet beforehand. The cube magnet with an edge length of 12 mm used here, for instance, required 4 loops.
Now, you only need to carefully tighten the knot loop by loop, starting at one end. A Phillips screwdriver or similar may come in handy here.
There are, of course, numerous other uses for the monkey's fist knot. The knot also effectively protects the magnet against damage, such as chipping.
To the left in the photo, you can see a lanyard with a sphere magnet type
K-08-C
tied on the inside. As a key chain, it now hangs on the
magnetic key rack FO-2
.
Required material per knot: approx. 80–100 cm paracord (around 0.80 €/m)
Time needed: about 30 minutes
Have fun making your own!
This video shows in detail, and step-by-step, how to tie your own monkey's fist knot: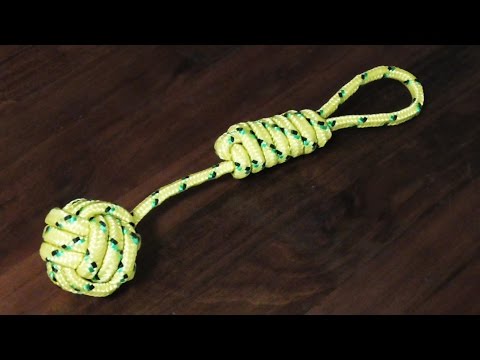 The entire content of this site is protected by copyright.
Copying the content or using it elsewhere is not permitted without explicit approval.